Amber Joy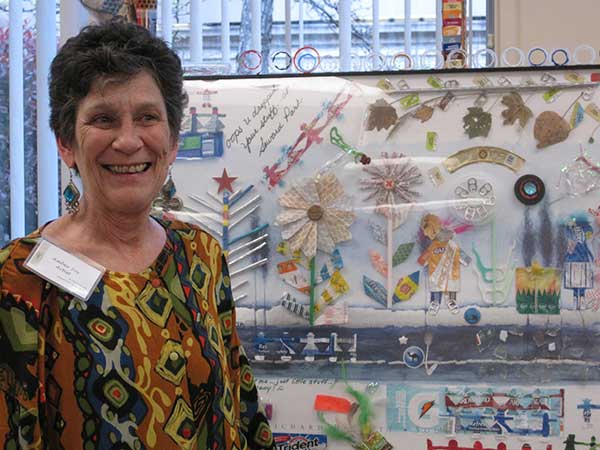 From the time Amber was a little girl, it was very clear that one of her values is justice. She cannot stand to see anyone treated unfairly. She was born in McPherson, Kansas where her father was president of a small Christian college and her mother taught elocution at the college. She was the baby of four children with two older sisters and one brother. It was a town of 2,000 and she recalls that it was a great place for her and her siblings in that they had a great deal of freedom.
She was unaware at that age of the difficulties her dad had being liberal and open minded in a very conservative college setting. He once brought a young man from Nigeria to be educated at the college, but then the young man was not allowed to attend the church and there were dorm issues as well. Her father befriended a woman who Amber remembers as being a tall, elegant woman who smoked and his best friend was a cigar-chewing Jew. Her father got in trouble for that as well. He was a charismatic man and a great teacher. She also describes him as being very inclusive and loving everyone. One might surmise where Amber got her thoughts of social justice!!
Finally, the love/hate relationship tilted in disfavor and she says of her father, "He was run out of town." He was hired at Seattle Pacific College here in Seattle and the family moved here in 1952. He taught economics, became the school photographer, started chapel every day for 32 years and was a fundraiser. For 32 years, he was also the Sunday School teacher at the church Amber now attends as well. The Kansas college recanted and invited him back, but he opted to stay in Seattle.
Amber thought the move to Seattle was a real adventure. She attended North Queen Anne Elementary and Queen Ann High School. She says she was not a good student - actually, she said she hated school, would not study and could not sit still in class. She loves history now, but then dates and places did not interest her - she wanted to know how people lived. After graduation, she was offered free education at Seattle Pacific because her father was on faculty. She knew that would be a problem and an embarrassment for her father, so she declined.
She said that during the years after high school, she had about 500 jobs (her estimate), i.e., salesperson at Prager's Men's Store, Aetna Insurance, mortgage work, bar tender, and go go dancer to name a few. She admits it was a dysfunctional time of life, but she did have a son born in 1964 and a daughter born in 1968.
Amber says that as a young child she was sure that something was very wrong with her or that she was bad somehow. She couldn't sit still and couldn't stay focused. She was either too happy or furious without much time in between. This kind of behavior garnered her a lot of adult glares. When she thinks of her childhood, she thinks of adults rolling their eyes and steeling themselves when she entered the room. Not her parents, thank God, she says. She says that you can see that she is a lot better but not "quite perfect."
She says she has a small cadre of friends here at Hilltop who try to remind her of public decorum. Tom shushes her every time she enters the lobby and Chuck nicknamed her "Whispers." Thanks, fellas, she says. But, she is aware that God alone will be the one to slow her down.
After a lot of headscratching by the medical and religious communities, to no avail, she says that she jumped ship and for those of you who know the term "self-medicating," she found that alcohol and marijuana "took the edge off . . . well, alcohol not so much, it turned me into the "furies." That changed in April, 1979 when she became clean and sober. She went into AA with her daughter's father because he was obviously an alcoholic. Alcohol is toxic to some, peanuts to others. When she drank, she became another person. She attended Alanon, but the treatment facility encouraged spouses to go to open AA meetings and she looked around and realized so much of the stuff sounded familiar. She discovered it is not how much or what you drink, but what it did to or for you. She recognized it was a deep discomfort with reality and she had been willing to do almost anything to escape it.
When she went into recovery, she started working with low income, homeless people. Most people do not recognize the serious side of Amber, just the full of fun and obnoxious, she says. The Operation Night Watch's director Rick Reynolds' mom was in Amber's Sunday School class. She got a job there with Rick. Most of his workers were students and when summer vacation started, they went home. She volunteered for 9 months and then he hired her as supervisor. She worked Friday and Saturday nights for 8 years.
Her day job was at Seattle Public School kitchens. Her favorite school was the Bilingual School which taught all immigrant kids from age 10 to 21. Some children came who had never held a pencil and some were highly educated. She remembers that they all came in scared and in a few weeks had turned into confident young people. Amber learned how to greet the children in 32 languages and they would laugh at her pitiful pronunciation. She hung a Beanie baby pig over the pork and other identifying babies so they would know what they were eating. The Spanish children called her Abuelita which means "little grandmother," and soon all the kids in the school were calling her by that title of endearment. It was a great juxtaposition to work with the children during the week and the clients of Operation Nightwatch on the weekends. She had to retire from school at age 62 because of an injury.
Her next job was with Interfaith Hospitality which worked with families with children. There she met Craig Darling from Companis. Craig placed her at Boomtown Café which failed after two years and then to ROAR where she was the receptionist and ran the drop in center. When that recently closed, she was unemployed for a few months but now Companis has placed her as a "one on one coach/companion" for working disabled. She will be associated with seven or eight different people/week, all at different locations. Most will be two to four hour shifts. One is a 50 year old man who has Cerebral Palsy and works at Children's Hospital. He uses his computer to speak but prefers his ABC board operated by his foot where he has the most control of his body. She says he works so hard. He makes deliveries for the gift shop and she shadows to help. He retrieves abandoned wheelchairs from the parking lot. When he sees the automatic door is clear, he thrusts the wheelchairs through, she calls "strike", then enters and puts them in place. She has to read his subtle signs and is really looking forward to this job!!
Amber moved into Hilltop in March, 2008. She goes to Seward Park at 7:00 a.m. every day with rare exceptions. She has met three other women who walk at the same time and they now meet after checking in with each other. She picks up the trash on the path and makes it into collages. Perhaps you remember her display in the art show last year. If not, maybe we can convince her to show it again. She is member of the Friends of Seward Park and they have contacted her to bring in the collage for their Centennial.
Amber has a standing three-hour weekly appointment with her seven-year old great granddaughter, whom she adores. She is also an active participant in life at Hilltop House and the hostess at the First Friday social. Her creative flair is evident there as well because she is always attired in an outfit to match the color (tablecloth) of the month. It is really a delight to have her here and we admire the way she lives her life.
Return